Roofing Services in Erie, PA
Brink Roofing – Erie, PA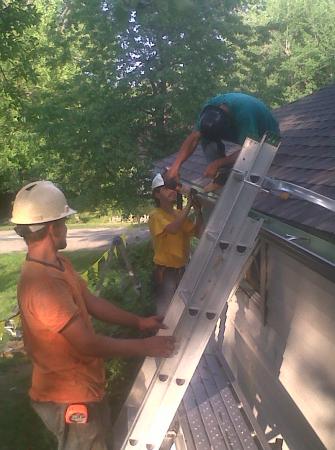 As an Erie roofing contractor, we know the best methods to install a roof on your home. A high quality roof system that is properly installed will protect your Erie home from the elements created by our beloved Lake Erie.
Brink Roofing installs high quality roofing systems. Other Erie roofing contractors provide low prices on materials because they have chosen to provide sub-par products and do a quick and careless roof installation. With Brink Roofing, however, you will get premium roofing materials and a roof replaced by skilled roofing contractors.
When you are looking to replace your roof Brink Roofing is your safest choice.  Choose the best roofing contractor in the Erie area with the best materials and superior warranties. We carry an assortment of styles and shingle colors. You can match the style of home, and every roof is installed with expert craftsmanship.
The following guidelines will help you find the right Erie Roofer to complete your project:
Check for a permanent place of business. There must be a landline phone number.  Just a cell phone number can = trouble. A warranty is useless if you can't find or contact the contractor who installed your roof.
Find out if they have a current contractor's license.
Insist on seeing a copy of "ROOFERS" insurance certificate. Make sure that it's roofing insurance, otherwise it isn't worth the paper that it's written on.  General Liability Contractor Insurance and Five Star Contractor Insurance combined with Snow Plowing doesn't work.
Look for a company with a proven track record that is capable of providing you with a list of completed projects.
Insist on a written proposal.  Examine your contract before you sign it.  Verbal promises are best if documented on the contract.  This prevents confusion, broken and forgotten promises.
What is the warranty?  Does it cover the materials and workmanship?
Does the contractor focus on running the best roofing business in Erie, PA or is there a "Jack of all trades / Master of none" danger signal revealing itself?
Click to Call Now! 814-897-1011
HIC:PA184191