Founders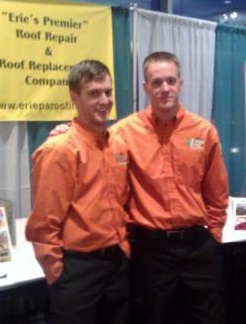 In the late 80's some Erie residents were surprised when they called a number from a business card they found posted up on a pegboard in the Lawrence Park Township Building. The cards read "Brink Services…..No Job too small."  It should have read, "Please, only small jobs" because they weren't even teenagers yet.  They didn't have the experience yet but they had the passion to be entrepreneurs and live The American Dream. This pegboard was located in the same room that local residents of Lawrence Park and surrounding areas purchased their stamps from the old fashioned quarter machines. The boys knew this was the perfect place to put their business cards because it was a high traffic area and it was free to post. Throughout the week Kyle and Joel would ride their bikes up to the township building and look to see how many cards had been taken. Every time they came home, they crossed their fingers that their parents would have the great news that a potential customer had called and was in need of their services.  Instead of buying candy that was so tempting, they decided to invest the profits from their first few jobs into basic business cards from Office Max.  So, every week they would remove a few crisp business cards from their box of 1000.  Eventually they went big time, and spent almost 20 dollars on a line listing in the local green sheet.
If you spoke to either one of them now, they would have some funny stories to tell you of those early years. Like the time they got a set of new snow shovels, but unfortunately there wasn't very much snow. They got their snow suits on and headed for the door. Mrs. Brink said, "Where do you think you guys are going? There isn't enough snow!" The two brothers said, "We are going to work Mom, and we think it will start to snow again.  If not, then we will figure something out." Well, there was only an inch or two of snow and there was no sign of an "Erie, PA Lake Effect Snow Storm." They were still determined to grow their service business by shoveling some snow that night. They were turned down multiple times and were laughed at because there was so little snow at the time.
They were good at adjusting and had come up with a plan. They started offering their services that night for a flat rate of 25 cents per home!  Who would say no to 25 cents, right?  They would be professional, quick, and provide superior service.  The two worked late into the night canvassing Lawrence Park and knocking on doors. The two always offered their services with a smile and gave off an obvious sense of pride about their newly born business.  Some homeowners laughed at the 25 cent service and slammed the door in their faces.  At first they were discouraged but kept their focus on the next homeowners who would say yes.  Some would say, "Are you seriously offering the service for only a quarter?" With a smirk on their faces, those homeowners then realized that, in fact, the brothers were serious. To the brothers' surprise at the end of each job, more often than not, they earned more than a quarter per household.  They would often get tips.
Again they were surprised because as night grew on, it began to snow again and soon there was another inch or two of fresh snow on the ground.  They turned to each other and said, "Oh no!  Our new clients will be disappointed because they invested in our services and now the snow came back again in such a short time."  They surely didn't want disappointed customers.  They both decided that, instead of pushing on for more and more customers, the right thing to do was to start heading back and shovel the one to two inches of snow off of the driveways and sidewalks of the new customers from earlier that night.  That way, they could go home proud of the service they provided and ended the night with happy customers.  Those happy customers now had a business card stuck on the fridge for the next time it snowed.   At the end of the night they dumped their earnings into a jar on the table. The brothers were surprised that the total amount tallied up to just about the same amount that was usually earned on a very snowy night!
As they grew older the services quickly changed.  Snow shoveling was seasonal so they thought the calls would stop, but the phone kept ringing.  The slogan "No Job Too Small" now turned into jobs that included anything from picking up after dogs to raking up leaves.  They completed a large variety of odd jobs.  It never really mattered what task they were hired to do.  What mattered and excited them was seeing the smile at the end of the job on a happy client's face.
This went on for a while but eventually they passed on the torch to the younger kids in the neighborhood.  Snow shoveling driveways and small jobs was a younger kid job. They started to look towards a service that younger kids weren't capable of providing.  It was the business of offering and serving Erie, PA residents with roofing services.  They were very limited in experience.  Their lifelong list of qualifications was very short.  It consisted of working aimlessly on their wooden tool benches in their basement, shop class, Erie County Vo-Tech, and years of pounding nails into a tree stump in their back yard.  These were hardly the qualifications needed to run a roofing business, but with this new goal of a future family business, focused on residential roof services, was born.
School and sports soon filled their schedules so the services slimmed down and so did the business card printing.
Time flew by and Kyle was in his last year of high school.  He was ready to take the next step after school to fire up the family business full-time once again.  At that time, an obstacle was thrown into the plan.  He suffered a head injury from someone else's poor judgment, so now Joel and the family had to help Kyle through a challenging time. They taught him to learn how to walk properly, to read again, to speak without stuttering, and help with his new memory challenges.  When the accident occurred, Kyle only had about ½ a year left in high school until his graduation day.  The excitement he felt to fire the business back up turned into a struggle to try to read and comprehend a simple book with his tutor.  Joel would take him on walks around the neighborhood and kept his attitude positive.  As time went on, Joel graduated high school.  The big plans of Kyle getting the business started back up again just weren't realistic.  At that time, he was told that he could never work up on top of a roof.  Joel went off to college to further his education in the field of English grammar and writing.
It took years but Kyle proved the doctors wrong and fought his way back to 100%.
Many years skipped by and then Joel and Kyle were reunited again.  It wasn't long before their family business plan was back in full effect once again.  They both worked together at a local commercial and industrial roofing company and gained more roofing experience.  Soon they moved forward and started building the family business just as they had planned as small kids.
Now it was the year of 2005. This was 7 years after the very first roof completed by the Brinks back in 1998.  The Brinks finally got their chance to open the business full-time and their business completed over 100 roofs in that first year.  Since 2005 they have continued to grow, not only in customer numbers, but in the high quality roof services offered and the superior warranties.  A new challenge was that the two brothers could only service so many roofs per year, so they had to create roof production processes that could easily be taught to roof technicians and produce quality results exactly to specifications every single time.
The well-known phrase, "Anybody can go up on the roof and throw some tar or on a roof," or "black Joe" as some of their potential customers called it. The two got upset when they would hear those statements. There are much better solutions.  If they only used tar that lasted a few months then they could have an endless amount of repeat customers.  They agreed that wasn't the right thing to do.  There had to be a better way to provide superior service.  A roof repair that only lasted a few months just isn't fair!
Soon they conquered that challenge and produced superior roof services and all repairs would come with a minimum of a 1year No Leak Extended Warranty.  Full roof replacements were offered with a Lifetime Extendable Warranty. Now they focused their efforts and creativity towards providing quality roofing repairs and replacements that lasted much longer than the roofing services offered in the industry.  No resident in Erie, PA had ever heard of or experienced these quality roofing results and warranties.
As time went on they were given huge opportunities from the business that they created. On two separate occasions they were given the opportunity to speak on stage to hundreds of the best roofing contractors in the nation. They were asked to explain a few of the processes they created to provide superior customer service, top of the line roofing repairs, and roofing replacements that came with the best warranties in the industry.
What are these creative ways and processes that the Brink Brothers have created?  Well, it's easy to find out what these are and to hear the rest of the story.  All you need to do is pick up the phone and call 814-898-4663 or 814-898-HOME.  You can also click on the Schedule an Estimate link.  Either way, you can meet the Brink Brothers and receive a free roof inspection. You will be provided many unique ways to extend the life of your roof, remove those ugly roof / algae stains, or have a full roof replacement system installed on your home.  All of the roof services come with the best warranties in the industry.
There is no risk involved. When you set up an appointment with Brink Roofing, don't expect a salesman to knock at your door. Instead, expect a Brink Brother ready to inspect your roof and greeting you with a smile.  Ask one of the brothers if you can have a business card.  With each new crisp business card handed out….the Brink childhood entrepreneurial American dream carries on.
The Brink Brothers provide roof services to all of the residents in Erie, PA and Erie County. The customers receive peace of mind that their homes will remain dry even during the harshest Erie, PA weather.
Brink Roofing has a 100% Satisfaction guarantee. The brothers' philosophy hasn't changed from the early years.  They don't look for more and more customers until they are sure that their current customers are 100 percent satisfied with the services performed.
They have a 24/7 live estimate scheduling service, so CALL NOW! 814-898-4663.
Even if it's 2:00 A.M on Christmas a call taker is ready to set you up with a specific appointment time.
It's time to make sure that your home is safe and your roof is water tight. You can get a free roof inspection especially in the winter. See soon with a smile! Call the happy roofers at Brink Roofing- 814-898-4663 or 898-HOME
You can also schedule online!  CLICK HERE TO SCHEDULE! It's that easy!
Click to Call Now! 814-897-1011
HIC:PA184191