Erie,PA Chimney Inspections
Why Chimney Inspections are important:
Chimney inspections are great for a wide range of reasons.
They identify potential problems before they become overwhelming situations.
They may clue you in to roofing problems in the area surrounding the chimney.
They help you understand the overall health of your chimney.
They also provide peace of mind that your chimney is safe to use during the approaching Erie, PA winter months.
But, when these inspections are not performed by people that are qualified, they can become a potential disaster. In other words, you need to go to the pros for this job or you may be provided inaccurate information.
The very first question you will want to ask a potential chimney inspector is whether or not he or she is going to review pictures of the chimney inspection with you.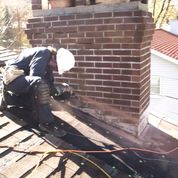 A qualified chimney inspector will have the proper tools and knowledge to identify potential problem spots—even those that are not exactly visible to the naked eye. He (or she) will also have the knowledge of where to look for potential roof leaks and many of the hidden areas where potential damage is missed resulting in unnecessary future repair costs.
Meet and speak with the chimney inspector before deciding that he or she is the one for you. Over the years, far too many of these professionals have developed a bad reputation for "Buy Now" or high pressure sales tactics that have given the entire profession a bad name. It is a good idea to know about the damage, but you need to know that the person you are dealing with is honest and recommending the repairs that actually need to be done or explaining that the chimney is in great shape and nothing needs to be done. Many people feel that because their name was in the phone book that they are qualified, but the truth of the matter is anyone can put a listing in the yellow pages.  Anyone can buy business cards and put a magnet on the side of their truck.  Looks can be decieving so stay focused when meeting and choosing your contractor.  Nothing's worse than doing the repair twice because of a poor diagnosis.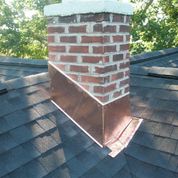 Has it been awhile since you've had a comprehensive chimney inspection?  Isn't it a good idea to call Brink Roofing to check this task off the list?
Brink Roofing will provide you with a thorough inspection and different options if necessary.  There is no cost and no high pressure sales tactics.  That is a promise from Erie ,PA's Roofing Contractor, Brink Roofing.  814-897-1011 –  Call Now to schedule!  An estimate scheduling service call-taker is ready to talk and schedule your free roof estimate and roof inspection.  Give us a ring.  Seriously, we even answer at 3:00AM on Christmas!
Click to Call Now! 814-897-1011
HIC:PA184191