Metal Roofs – The truth about Metal Roofs
BRINK ROOFING – ERIE, PA ROOFERS
ERIE, PA….BEWARE OF THE METAL ROOF ("LASTS A LIFETIME") SCAM!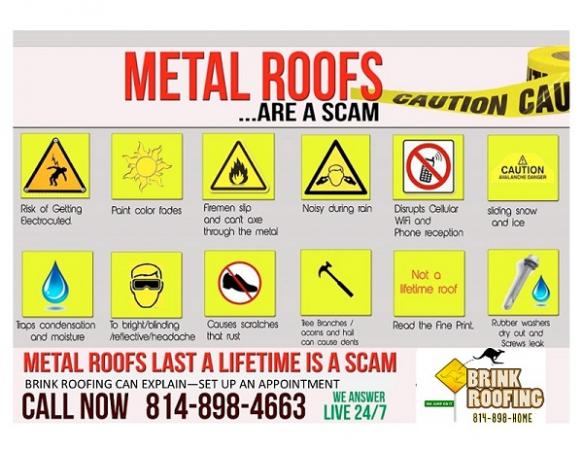 Standing Seam Metal Roofs – Brink roofing  that STANDING SEAM METAL ROOFS are pretty much a lifetime roof. They have a great reputation because they last a long, long, long time.
What most may not know is that there is a roofing scam going on right now in Erie, PA.
Exposed Fastener Metal Roofs:
In Erie, PA, some roofing contractors are stealing the great reputation of the standing seam metal roofs. They are doing so by selling and installing Exposed Fastener Metal Roofs with the "Metal Roofs Last a Lifetime Scam". It's a fact that exposed fastener metal roofs don't last long time at all.
Beware of the roofing contractors using this "Metal Roofs Last a Lifetime Scam" and installing Exposed Fastener Metal Roofs!
When it comes to durability and long lasting performance, metal roofs are known to be up to the mark. However, there are many disadvantages metal roofs have that cancels out the advantages. In fact, they are not long lasting at all. With time, changes in weather conditions cause them to deteriorate which can lead to leaky roofs.  One problem with metal roofs is during the installation process the roof surface can get scratched from the workers walking on it or dropping their tools.  Years later these areas can rust and leak.
There is nothing worse than a leaky roof! The floors of your interior get wet and the carpets get soggy. Sometimes the water lands on electronic appliances causing many problems for homeowners. Hail, when it falls in large sizes, can also cause dents on your metal roofs. Metal roofs are also known to be noisier than other roof types during rain showers.  If you have a lot of foliage around your house, you will even hear the dry leaves falling on your roof sometimes. Fruits from the trees fall with a huge bang which can disturb many people living inside the house.
Another disadvantage of metal roofs is that they tend to get greatly affected by improper installation techniques. If the panel screws are not positioned properly or if the panel joints are not impermeable to water, leaking may result. Also, the rubber around the screws get dry and eventually rot which also causes roofs to leak. Metal roofs are also very difficult to repair and replace in case of any form of damage taking place.  Firefighters are trying to ban metal roofs because it is a safety hazard.  If a home is on fire and it has a metal roof, this can be a huge problem.  Firefighters usually cut an access hole through the roof to enter the home.  This cannot be done when there is a metal roof, and, if attempted, it can cause sharp edges that can cut anyone climbing in or out of the home.  Metal roofs trap heat and moisture in the homes while architectural shingles allow the home to breath.
Metal roofs are also very expensive to install compared to the more traditional asphalt shingle roofs.  Asphalt shingles are much cheaper than metal roofing. Apart from being a lighter burden on your wallet, they are a lighter burden on your roof as well. In the winter it is true that ice and snow slide off.  That seems like an advantage, but when the ice and snow slide off they also bend or pop out the screw heads and causing roof leaks.
Asphalt shingles are lightweight and are very flexible and strong. They are thus well-suited for many roof types and can be nailed on to them. Composition shingles that are made of fiberglass or asphalt are also very durable and can withstand changing weather conditions. You can even walk on them without damaging the shingles.  Fasteners are protected under the shingles.  The fasteners on a metal roof are exposed to the elements.  That is another reason that metal roofs are a poorly designed roof system.
Composition shingles are very versatile. They also come in many brands, colors and textures. Our services at Brink Roofing provide shingles that will match your home and make it look good. Architectural shingles are an excellent choice to provide your home with a clean and sophisticated look at a very affordable price.
Shingle roofs are a low maintenance roofing system.  Brink Roofing has decided as a team to not offer metal roofing.  We offer architectural shingle roofs.  After reviewing all of the facts…..isn't it easy to see the best choice?
We are available all day, every day. Feel free to get in touch with us to schedule an appointment. You may dial 814-897-1011. We also give free estimates and we are a very reliable family company in Erie, PA.
CLICK HERE TO SCHEDULE YOUR FREE ROOF ESTIMATE AND ROOF INSPECTION! 
See you soon! 814-897-1011
Click to Call Now! 814-897-1011
HIC:PA184191